The Baby Seal
&nbsp
The story
With their large eyes and expressive faces, seals have always suggested a sympathy with humans. Their wistful bark even has the ring of human speech. No wonder myths and folklore have often cast them as the reborn souls of those drowned at sea. The Selkie legend even tells of spirits who live as seals in the oceans, but shed their skin to become humans on land.
An old Icelandic tale from the south tells of one such spirit, trapped in human form, who becomes torn between her children on land, and the seal babies she left behind beneath the waves...
Inspired by this connection, the Baby Seal turns your little one into a soft, warm seal cub, keeping them cosy and safe.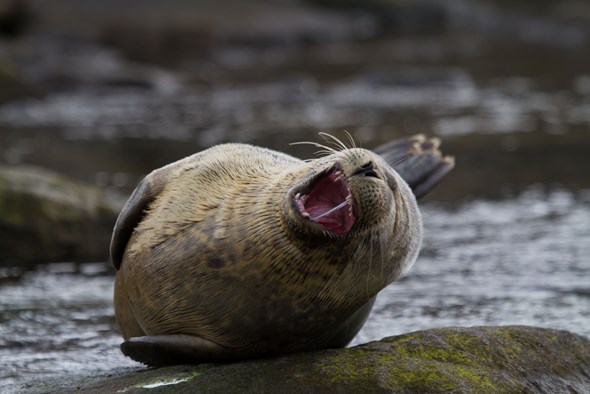 About the product
The Baby Seal's softer and lighter Léttilopi yarn makes it perfect for little ones. From a cosy crib layer or stroller lining, up to a reversible protective garment for a bicycle baby seat, it offers all the comfort and warmth they need in those first years. Reversible, it also has a double-knit lining to keep your little one safe and warm, it is the ultimate comfort blanket. (US size 2/European size 98) As with all Vík Prjónsdóttír designs, the Baby Seal is the product of a design and production process based on working closely with traditional Icelandic knitwear factories and producers. Dimensions:95 cm x 80 cm / 37 x 31 inch
The material
Icelandic sheep have evolved over more than 1,000 years in complete isolation, influenced only by the harsh climate and rugged landscape. This has helped to create a wool with a unique combination of fibres, unlike any other in the world.
The soft, fine inner fibres provide insulation and are strongly resistant to the cold. Meanwhile, the tough outer fibres are long and glossy, making them water resistant.
So: hardy, lightweight, warm and water-repellant. And, as the sheep's fleece grows every year as they graze in nature, this is a truly renewable resource.
You may also like