The Sealpelt
&nbsp
The story
Often seals have been thought of as Selkies, mythical figures who could shed their skin and live on land as humans. So goes an Icelandic tale from the south...
One morning a farmer discovers a sealpelt on the beach. In a nearby cave he hears voices and music. He takes the pelt home and locks it in a wooden chest. Some days later he returns to the beach, where he finds a young woman sitting on a rock, naked and crying. He brings her home with him, and after some time they marry and have children. But she grows restless, staring quietly at the ocean for hours. One day, when he is out fishing, she comes across the key to the chest and finds the seal pelt. Leaving her family behind, she puts on the pelt and dives into the ocean, saying: 'I am very anxious, with seven children on land, and seven in the sea'. She never returns.
The farmer misses her terribly, but when he fishes he often sees a seal beside his boat, its eyes full of tears. It is said, however, that he became lucky in his fishing, and that when his children would play at the beach a seal was often seen swimming close to land, bringing them beautiful stones and colourful fishes.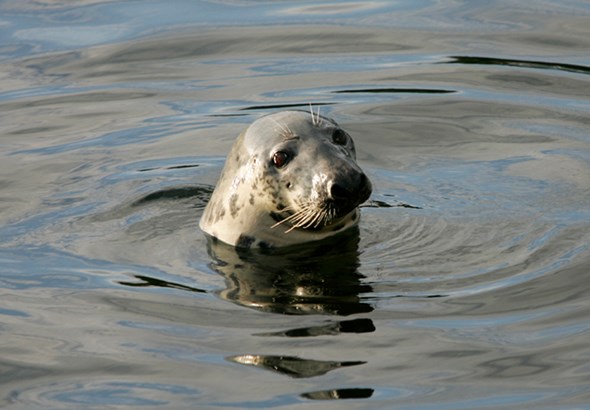 About the product
A woolen tribute to the comfort and warmth of the seal's pelt, the Sealpelt blanket is double knit from Icelandic wool, with a full, one-colour single-knit lining. Its unique, wearable design allows you to slip it on and carry the cosiness with you, moving around the home in seal-style. Or it becomes a more traditional blanket, bedspread or throw-over, animating beds, chairs and sofas. As with all Vík Prjónsdóttir designs, the Sealpelt blanket is the product of a design and production process based on working closely with traditional Icelandic knitwear factories and producers. Dimensions:200 cm x 134 cm | 79 x 53 inch
The material
Icelandic sheep have evolved over more than 1,000 years in complete isolation, influenced only by the harsh climate and rugged landscape. This has helped to create a wool with a unique combination of fibres, unlike any other in the world.
The soft, fine inner fibres provide insulation and are strongly resistant to the cold. Meanwhile, the tough outer fibres are long and glossy, making them water resistant.
So: hardy, lightweight, warm and water-repellant. And, as the sheep's fleece grows every year as they graze in nature, this is a truly renewable resource.
Quote - Comment
We absolutely love the Sealpelt! It is just as nice, cosy and warm as we imagined it to be, and it will come of great use this autumn and winter as we live in a very cold and old house (from the 19th century) that does not have central heating.
Ing-Marie Back Danielsson, Stockholm Sweden
You may also like